The Graduate Student Webinar Program explores and applies ancient spiritual technologies that have been developed by Siddhas and Yogis to expand human consciousness. The teachings and techniques presented in this Program were developed over 3,500 years ago by these great teachers, who achieved some of the most profound levels of consciousness of any human beings that have ever lived. The world can no longer get by with only a small group of enlightened people who spend their lives as monks. What is needed is for householders - people with families and jobs, who live and work in the "everyday world" - to have access to a "fully functioning" enlightenment, so that people can incorporate into their daily lives all the benefits of a profound and deeply spiritual consciousness. This Program is intended to be at the forefront of providing that experience to its students.
PROGRAM FORMAT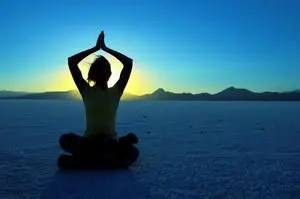 The Graduate Student Webinar Program runs as a six-month subscription and offers a new Webinar Series from February to July and then August to January*. Each six-month Webinar Series presents privately held teachings and spiritual technologies. Stuart offers a webinar day each month so a student receives 6 LIVE webinars during each six-month subscription. The LIVE group teaching will be 90 minutes in length and offered at 11:30am Pacific Time on the scheduled webinar day. During all LIVE group teachings new students will join Stuart's 25 Graduate Students (some who have been studying with him for over 10 years) and 20 senior Webinar Students who have been in the Webinar Program since 2017. By utilizing this collective group energy, students will find the live teachings to be very powerful. The spiritual technologies Stuart uses during the LIVE broadcasts are intended to provide a tremendous shift in experience, so students should expect it to take approximately 2 - 4 weeks for each teaching to become fully integrated into your consciousness. For times when someone cannot make a live broadcast, each webinar will be recorded and available in a special Vimeo video portfolio for each Webinar Series.
UPCOMING WEBINAR DAYS:
2023
December 13
2024
January 17, February 14
We will do our best to provide future webinar dates to students as far in advance as possible.


*Registration is ongoing for the Graduate Student Webinar Program. Students will be transitioned into the most current webinar series regardless of the month registration is received and the six-month subscription will reflect this individualized start date.


DAILY PRACTICE
All students will be required to perform a daily meditation practice intended to help develop higher functions of the brain and nervous system. This daily practice is mandatory and further information will be provided to students after registration. The time commitment of this daily practice will be approximately 30 minutes.
Consistency both in attending the monthly webinar broadcasts and in performing the daily practice is extremely important. Students will be required to email monthly experience updates so Stuart can monitor personal development. The Graduate Student Webinar Program works as a complete whole, not performing your daily practice and/or attending the LIVE webinar days will yield slow to no spiritual growth.


SUPPLEMENTARY MATERIAL
The LIVE webinars may occasionally be supplemented by "homework" assignments, such as readings or online videos. Homework can be covered at a students own pace, at a time of their choosing. Throughout each Webinar Series Stuart will provide specialized Siddha and Yogic techniques to enhance your daily practice. Students will also be given access to a video portfolio from Stuart's own teaching library.
PREREQUISITES
We are looking for motivated, earnest individuals with a strong desire to a take a huge leap forward. New students may be required to watch video recordings from previous broadcasts before attending their first live webinar.
The Graduate Student Webinar Program can be taken along any other spiritual practice that you are currently involved in. You will quickly see how this Program fills in the gaps of your understanding. Experience the common thread that ties all spiritual practices and all spiritual experiences together.
SIX-MONTH SUBSCRIPTION FEE
The Six Month Graduate Student Webinar Program fee is $595.00 USD. This unique Webinar Program consists of 6 LIVE webinar broadcasts offered by Stuart Mooney over a period of six months.
In addition to the benefits of the Program itself, students who have been consistently performing their daily practice and attending the LIVE webinar broadcasts will be eligible to attend the next Graduate Student Retreat. These Retreats have been previously held on the Big Island of Hawaii and in the Canadian Rockies. Our next Retreat will be held in Hawaii in 2024!
CONTACT US if you have questions about our Webinar Program.
COMPLETE THE FORM BELOW TO REGISTER: